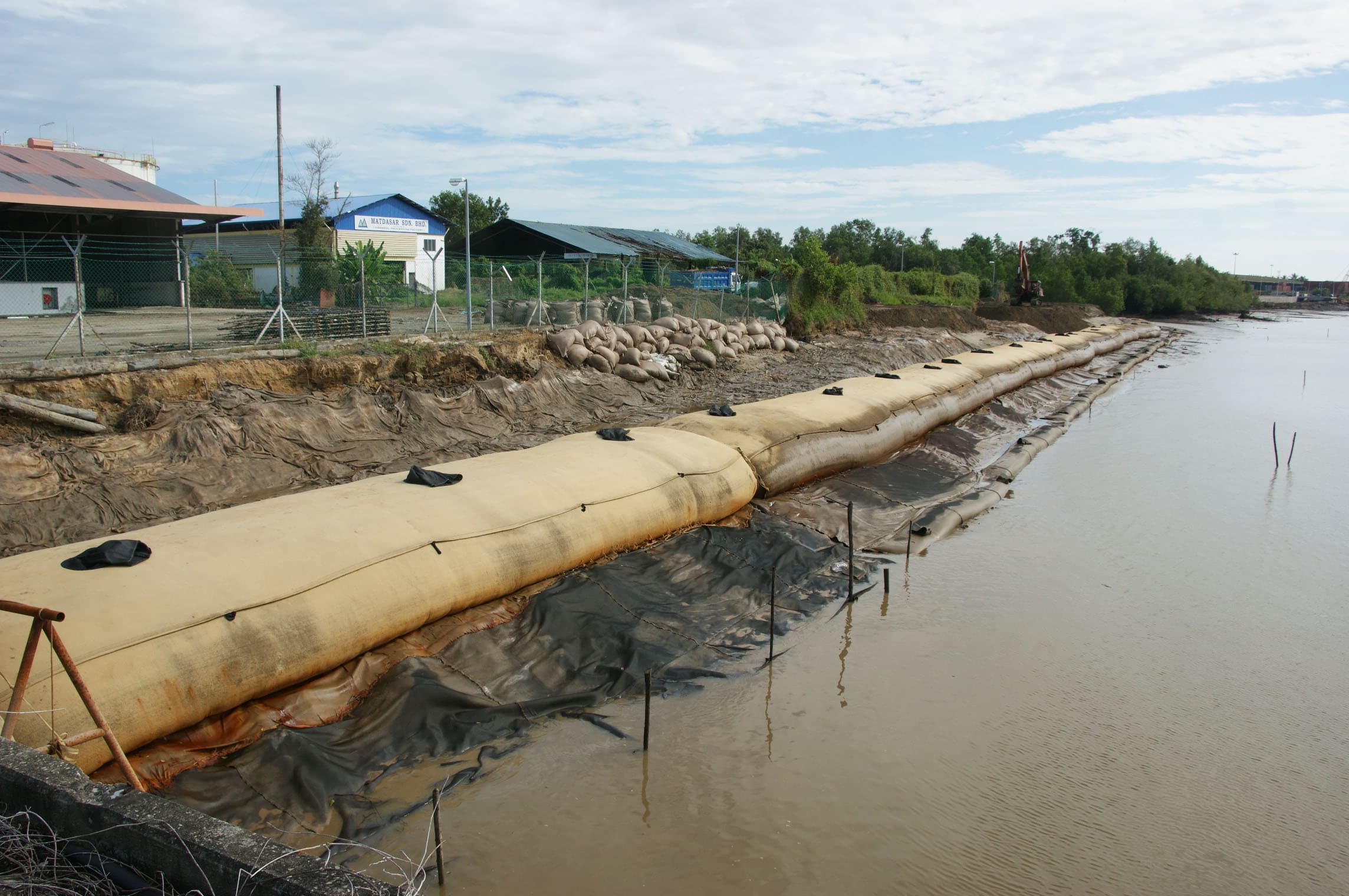 Geocontainment solutions for riverbank protection in Tanjung Manis, Malaysia
Overview 
The Rajang River, also known as the Rejang River, originates in the Iran Mountains on Borneo Island. It flows southwest to Kapit, where it turns westward and eventually discharges into the South China Sea through a swampy delta. The Rajang River, spanning 560 km (348 miles), is the longest river in Sarawak, Malaysia. Tanjung Manis, a port located about 30 km (19 miles) from the sea, features a container terminal, a deep-sea fishery wharf and facilities complex, and an oil, gas, and chemical (OGC) jetty. 
Challenge 
The OGC jetty expansion project aims to construct two berths, each 200 m (656 feet) long with a 12m (39 feet) draught, to accommodate larger vessels. The project also involves bank protection works. However, the availability of nearby rock is limited, and accessing the site is challenging.  
Solution 
To address these issues, we utilized GEOTUBE® GT550MC composite tubes and GEOTUBE SFM 2000C (sand-filled geomattresses) for riverbank protection adjacent to the jetty. Establishing vegetation naturally can be a time-consuming process, and turfing is not sustainable in the brackish water environment. The composite fabric used in the fabrication of GEOTUBE GT550MC and GEOTUBE SFM units is highly durable and capable of trapping sediment within its structure. As a result, the GEOTUBE Systems offer stability against currents, waves, weathering, and long-term sunlight exposure. 
We employed standard GEOTUBE GT550MC units, measuring 10.8 m (35.4 feet) in circumference and 25 m (82 feet) in length, as stabilization units. A scour apron was installed in front of the GEOTUBE GT550MC units. Once the GEOTUBE GT550MC units were in place, the riverbank was gently sloped back. Subsequently, GEOTUBE SFM 2000C units were installed above the GEOTUBE GT550MC units.