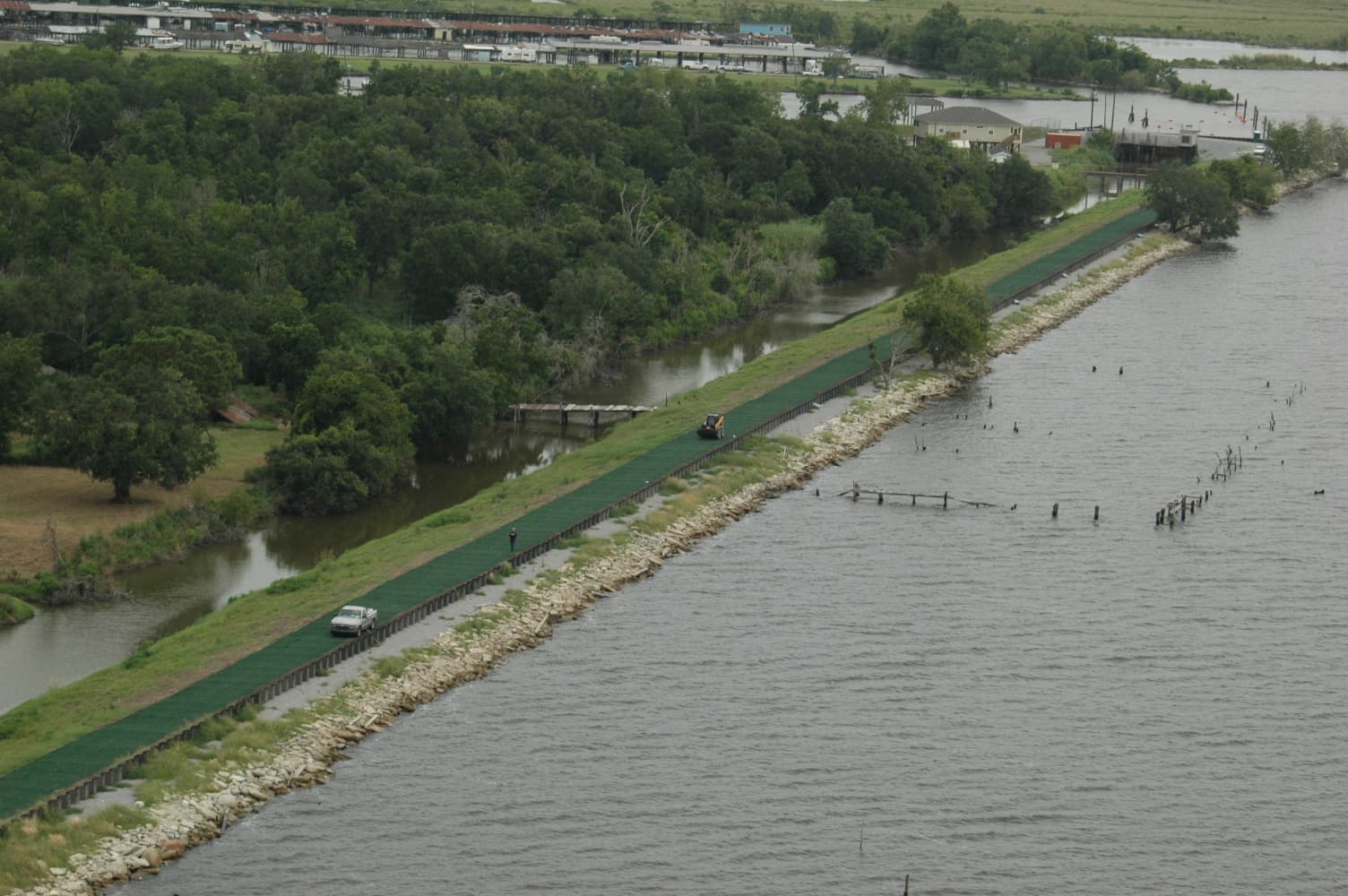 Stabilizing the eroding Monogahela riverbank
The Lenape term "Mënaonkihëla" translates to "where banks cave in or erode" and inspired the name for the Monogahela River in southwest Pennsylvania. This naming is due to the riverbanks' geological instability. 
Despite its ominous name, many industrial facilities, including Univar Solutions, operate along the Monogahela. Univar's chemical distribution center in Bunola, PA, uses the river as a key transportation link. Here, barges regularly deliver materials to a dock adjacent to an unstable slope. This instability, manifesting as translational slope failures, threatened the dock, piping systems, and potential property loss. 
The slope's gradient was roughly 1H:1V with a height of around 18 feet. Nearby infrastructure made certain stabilization techniques, like a gabion basket retaining wall, impractical. 
Collaborating with Solmax, the project engineer conducted a slope stability analysis comparing unreinforced slopes to those bolstered by PROPEX® Armormax® with B2 anchors. PROPEX Armormax, used for surficial slope stabilization, focuses on the topmost three feet of the slope's soil. Comprising High-Performance Turf Reinforcement Mats (HPTRMs) and Engineered Earth Anchors™ (EEA), PROPEX Armormax holds soil together, resisting hydraulic stresses. The soil in the area has two layers: sandy clay atop clayey sand. 
The results indicated that PROPEX Armormax with B2 anchors considerably improved slope safety and resilience. A safety factor, gauging the forces causing and resisting movement, revealed PROPEX Armormax provided a stable slope. 
Based on this, PROPEX Armormax with B2 anchors was chosen for slope stabilization. Because of the project's closeness to the water, Pennsylvania's Department of Environmental Protection (PADEP) approved it under their GP-3 Bank Rehabilitation guideline. This mandates maintaining the bank's natural character and promoting vegetation, aligning well with PROPEX Armormax's vegetative reinforcement capabilities. Besides slope stabilization and erosion control, PROPEX Armormax supports quick vegetation establishment. Notably, the Environmental Protection Agency (EPA) recognizes this technology as a Best Management Practice (BMP) to enhance water quality. 
PROPEX Armormax is also environmentally friendly, having a low carbon footprint. It's 10 times more efficient than concrete alternatives. 
For the installation, the slope was reshaped, trenches were made, and around 400 square yards of PROPEX Armormax were applied with B2 anchors, nine feet apart. A seed-filled soil layer was added and capped with a PROPEX Landlok® erosion control blanket. Within two months, over 90% of the slope was vegetated, with no erosion or failure signs. 
The project was completed within a week without affecting Univar's operations. However, a secondary, initially untreated part of the slope started experiencing failures and might need PROPEX Armormax treatment in the future.