How to estimate erosion control material quantities for slopes and channels
Introduction:  
We often get asked how to accurately calculate the quantity of erosion control blankets (ECBs), turf reinforcement mats (TRMs), and high-performance turf reinforcement mats (HPTRMs) for slopes and channels. Many construction plans and bids mistakenly underestimate these quantities, leading to project delays and budget overruns.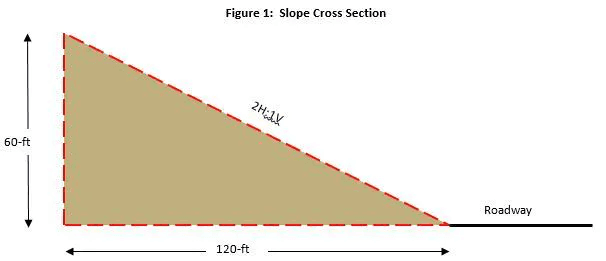 Figure 1 Slope cross section
Common mistakes:  
Using 2D plan views for estimating, leading to inaccuracies. 

Ignoring extra material for trenching, overlaps, waste, and curves. 
Example scenario:  
We have a 500-ft roadway relocation project that involves cutting a hill alongside it. The hill's slope is 60-ft high with a 2H:1V grade. (Note: Erosion control materials are usually measured in square yards (SY). Remember, 1 SY = 9 square feet (SF)).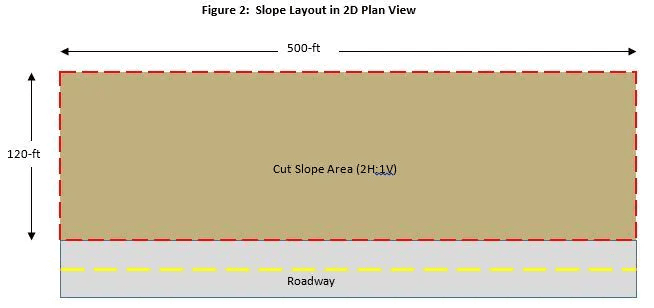 Figure 2 Slope layoutin 2D Plan View
Method 1 (2D Estimation):  
Using the 2D plan, the slope area = slope width x slope horizontal length (500-ft x 120-ft = 60,000 SF or 6,667 SY). This typical estimation doesn't account for true slope length, overlaps, trenching, and waste.  
Method 2 (3D Estimation with adjustments): 
1. 3D Slope Calculation: Using trigonometry, the true slope length is 134.2-ft. This gives an area of 67,100 SF or 7,456 SY. 
Figure 3 Slope length
2. Trench Area Calculation: To prevent material damage, trenches are advised around the material edges. Assuming a 1-ft wide x 1-ft deep trench, we need: 
   Top: 111.1 SY 

   Bottom: 111.1 SY 

   Each Side: 29.8 SY 

   Total: 282 SY 
3. Overlap Areas: ECBs, TRMs, and HPTRMs need overlaps. Typically, 3% of the combined 3D slope and trench area (7,738 SY) is adequate. This is about 232 SY.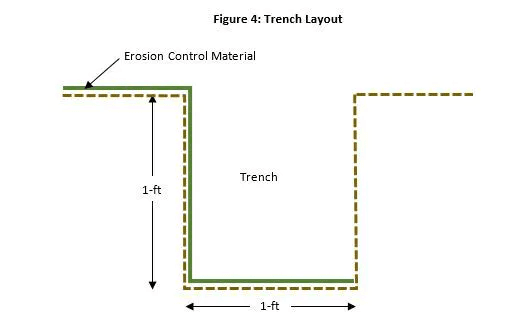 Figure 4 Trench layout
4. Waste Area Calculation: Anticipating end rolls, damage, etc., consider 3%-5% of the total (slope + trench + overlap). For this example, it's about 239 SY. 
Total Material Required: Adding all areas, we need 8,209 SY.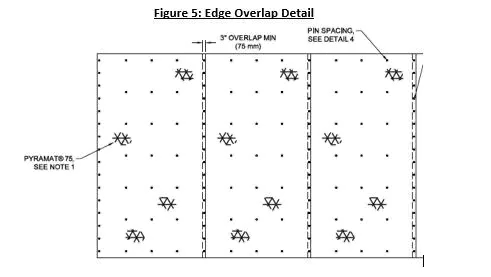 Figure 5 Edge overlap detail
Comparison and conclusion:  
Method 1 gave us 6,667 SY. Method 2 suggests 8,209 SY—a 23.1% increase! This demonstrates the importance of accurate calculations. Such discrepancies can result in increased costs and delays.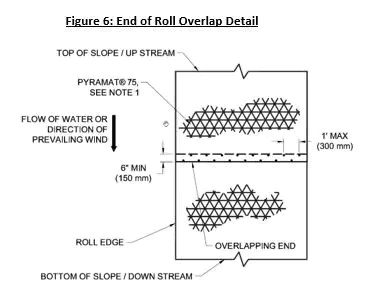 Figure 6 End of roll overlap detail
Application: This method can be adapted for channels as well. 
Recommendation: Always clarify in bid documents and construction plans that listed quantities account for trenching, overlaps, and waste. 
Table 1: Refer to this for a breakdown of materials needed for slopes and channels.