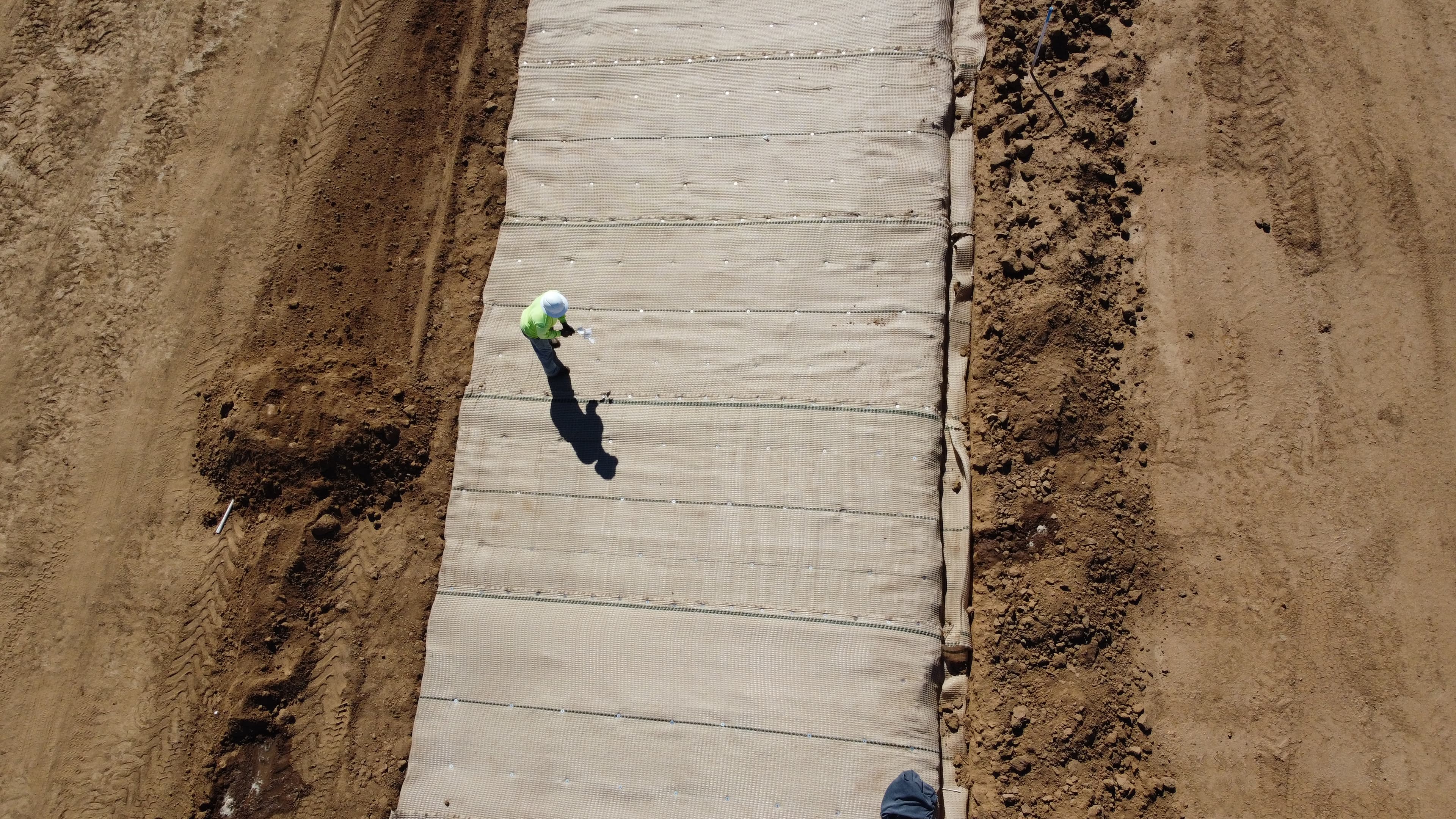 How to combine systems for optimal performance
For over 30 years, the Hixson Athletic Association fields in Chattanooga, TN have been a center for community sports and recreation. Recently, a slope near the southwest corner of the track, 3.66 meters (12 feet) in height with a 1.53H:1V gradient, suffered damage. The failure depth was around 0.61 meters (2 feet). This slope, saturated from both flooding from storm sewer pipes above and water from a drainage channel at its base, was causing erosion to the track. Given the track's popularity among young children, the City prioritized a risk-reducing solution for park visitors. 
While modular block walls and rock riprap were considered, their cost and unnatural appearance made them less appealing. The City turned to PROPEX® Scourlok® and PROPEX Armormax®, having previously witnessed their success at a local school slope. 
PROPEX Scourlok was applied at the slope's base. It incorporates erosion-resistant PROPEX Pyramat® 75 High-Performance Turf Reinforcement Mat (HPTRM) and the separating ability of Geotex Nonwoven geotextile. Above this, PROPEX Armormax was utilized, melding HPTRM with Engineered Earth Anchors™ for surface stability, protecting against both hydraulic and non-hydraulic stresses. This robust protection means the area can be landscaped without concern for damaging the HPTRM. 
Using the provided survey data, three cross-sections of the failure area were created for analysis. PThe study honed in on the stability of the PROPEX Scourlok units and the slope's surface with PROPEX Armormax. The design featured one row of PROPEX Scourlok units at the base with PROPEX Armormax above. The gradient behind the PROPEX Scourlok units was set at a steeper 2H:1V. 
The GeoDesign application was employed to analyze three scenarios: Sliding, Overturning, and Bearing Capacity. In all cases, PROPEX Scourlok exceeded the necessary safety benchmarks. Further analysis demonstrated that PROPEX Armormax with B2 anchors augmented the Factor of Safety and decreased failure risk. Beyond just structural integrity, PROPEX Armormax provides erosion control and supports vegetation. Both systems foster swift root growth and the spread of vegetation, ensuring up to 75 years of vegetated slope stabilization and erosion defense.